Hello, December! This is a picture of Santa Claus drawn especially for my coloring book Merry Christmas for Merry People.
Once upon a time, when I was a little girl, I got visited by Santa Claus at Christmas Eve. I was sitting on his lap and touching his beard, when I surprised everyone with the question:
"Santa, why is your beard made of cotton?"
I needed to become an adult in order to start believing in Santa Claus again. That happened because I needed to believe in Goodness and Joy and the Holiday Spirit, and discover that Christmas is love in action.
Before he became the jolly, white-bearded old guy from Coca Cola's first advertisements, he was the Saint Nicholas of Myra. A good-hearted priest, who would give gifts to the poor, without revealing his identity. Since he comes from Asia, Saint Nicholas was probably a bit dark-skinned, brown-eyed and silver haired. He used to perform miracles, and they called him also the Wonderworker.
Let's see how Santa Claus is known around the world:
Belgium and France – Pere Noel and sometimes Papa Noel
On the 4th of December Papa Noel makes a list of the naughty and nice little boys and girls. On the 5th of December, he comes back bringing candies and toys for the good children. Obedient children leave their shoes and the more ambitious of them leave their baskets next to the door, to be filled with gifts. The naughty children get a bunch of wooden sticks in a warning.
As the world capital of fashion, France believes its Pere Noel is dressed with a white fur coat, while he flies in the night sky with the speed of light. Instead of leaving cookies and milk for Pere Noel, the French kids leave carrots and hay for his flying donkey Gui. (his name means mistletoe in French)
In eastern France, they have another gift-giving popular character – La Tante Arie (Aunt Arie). She is a fickle fairy, always accompanied by a donkey named Marion, who gives gifts to the good children, and boots full of twigs to the bad children.
Brazil- Papai Noel & Bom Velhinho (Good Old Man)
If Papai Noel finds your sock near a window, he will replace it with a gift. But in Brazil people often exchange gifts during the entire month of December as an amigo secreto (secret friend), hiding behind an invented name. On Xmas Day one gets to learn who was their true amigo secreto.
Chile- Viejo Pascuero ("Old Man Christmas")
Christmas in Chile is in the midst of summer. They still decorate their homes with trees and lights, and nativity scenes and get together in order to eat a lot. But after the Xmas hassle is over – everybody can go to the beach!
China- Dun Che Lao Ren ("Christmas Old Man")
In China, Christmas itself is called "a peaceful and quiet evening" – a translation from the song "Silent Night." The word for "apple" in Chinese is similar to the word for "peace," which is why on Christmas Eve Chinese people give each other apples, wrapped up in gift paper.
Czech Republic- Svatý Mikuláš
On the 5th of December (St. Nicholas's Eve) children are very impatient to meet St. Nicholas. He arrives accompanied by one or more angels and asks the children if they have been good the entire year. He also makes them sing a song or recite a poem and gives them a basket full of presents, chocolate and fruit. If you are on the naughty list, you might find coal in your basket.
Scandinavian Origin of Santa
Norse people had this great God named Odin. He had two ravens, which listened at the chimneys of people to witness who is bad and who is good. During the pagan holiday of Yule, he rode an eight-legged horse named Sleipnir through the sky (just like Santa's reindeer.) In some traditions children placed near the chimney boots filled with sugar, carrots or straw for Sleipnir. Odin would reward their kindness with gifts or candy, which he left in the boots.
Netherlands- Kerstman, Sinterklaas
The name Santa Claus, comes from the name Sinterklaas. Sinterklaas travels with his servants named Zwarte Pieten (Black Peters), or Sooty Pieten (Chimney Peters). Dressed in a red robe, he and his companions take part in a procession through the town. Sinterklaas and the Piets give the presents to the children.
Sinterklaas is also a blend of Christian and Pagan tradition, which has shaped the way we think of Santa Claus today. He rides a white horse and has got helpers to eavesdrop on the children. He keeps lists of the naughty and nice and carries them with him.
There is a book by a schoolteacher named Schenkman, about Saint Nicholas and his servant, and it includes stories about him which depict him giving presents by riding high above the roofs on a horse, delivering gifts down the chimney in the Sacred Night.
Hawaii – Kanakaloka
A Christmas celebration with a tropical theme – the Hawaiian gift-giver and his helpers wear aloha shirts. People decorate palm trees and use dolphins and canoes instead of sleigh and reindeer.
Finland- Joulupukki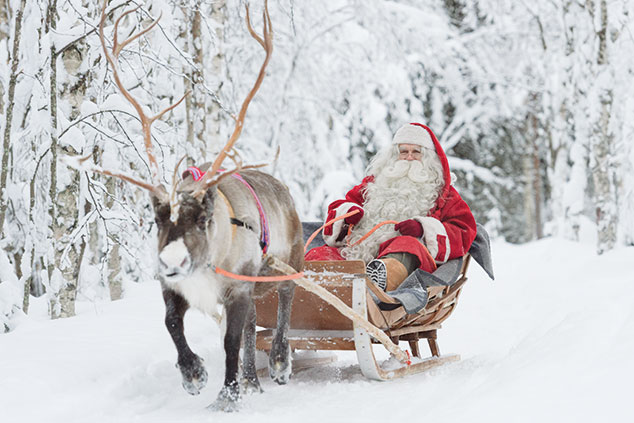 The name Joulupukki means Christmas Goat. Before the traditional Santa Claus, Finnish people had another Christmas character: the Yule Goat, who was spooky and wanted presents from people, but he didn't give any. But over the time, the Goat became a gift giver, and then turned into Santa, still the name remained. Naughty children may end up with a bag of coal on their special day.
Finnish people believe that Santa Claus lives in the North part of Finland – Lapland, north of the Arctic Circle. Therefore, children from around the world sent their letters to Santa in Finland. There is a big park like Disney Land called "Christmas Land" in Finland.
Germany- Weihnachtsmann ("Christmas Man")
German children receive their presents from Der Weihnachtsmann on the 24th of December. Sometimes he brings cookies and chocolate on the 6th December as well. If he knocks on the door, the children will have to sing a song, play a song or tell a story to deserve their presents.
In some parts of Germany, Santa is accompanied by a character named Krampus. He is a big-horned monster dressed in rags and carrying chains – and his role is to punish the bad children. In other parts of Germany, Santa is followed by Schwarzer Peter (Black Peter) who carries a small whip.
German people often exchange secret presents at their workplaces or parties at school. Knowing who gave you your present is considered to be bad luck.
Italy- Babbo Natale
One of the sightseeings in Naples is the biggest Nativity scene in the entire world – with more than 600 small objects on it!
According to a venerated Italian custom, children go out on Xmas Eve, to sing carols and play pipes, wearing sandals and hats like shepherds.
On Christmas day, they receive small gifts from Babbo Natale, but the major day for presents is on Epiphany. There is a belief that on Epiphany night, an elderly lady named Befana puts wonderful things in the stockings placed by the fireplace.
Japan- Hoteiosho (a god or priest who bears gifts)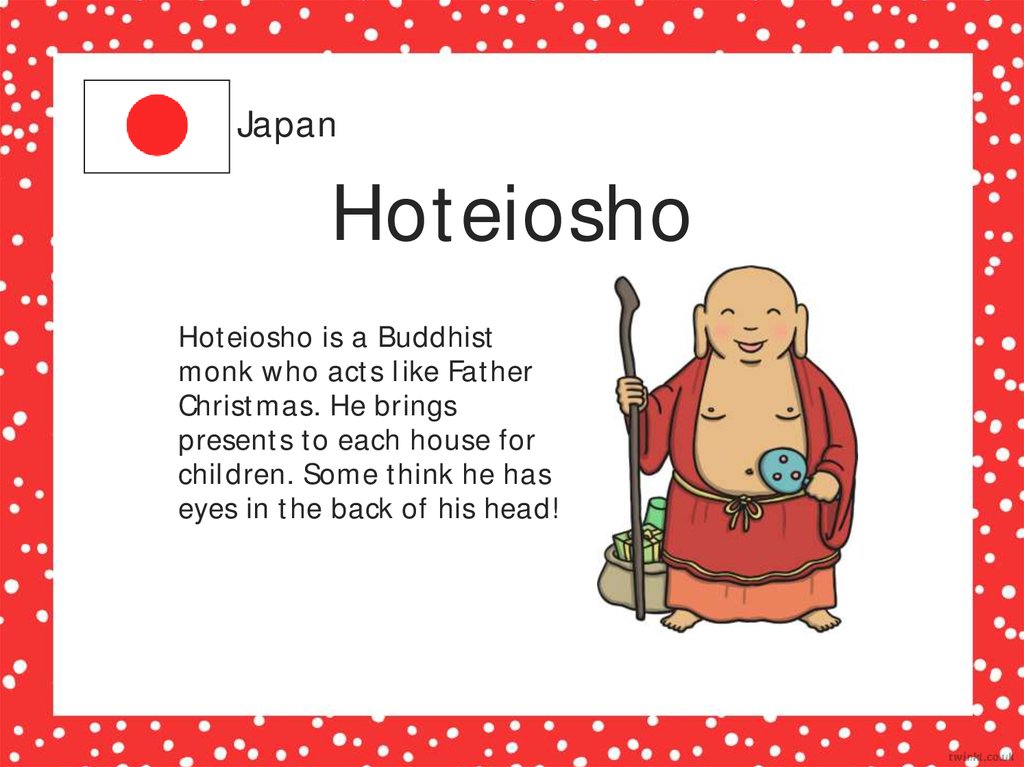 Christmas is not much of a religious holiday in Japan. It is known there as the time to spread happiness, a romantic day for couples, and an occasion to eat fried chicken. KFC is the most popular restaurant in Japan on the day we celebrate Christmas. The Japan people also celebrate by visiting Tokyo Disneyland. They also have a cake decorated with a figurine of Mr. Santa. Another bringer of presents is Hoteiosho, a Japanese deity of good fortune, not quite related to Christmas.
Norway- Julenissen ("Christmas gnome")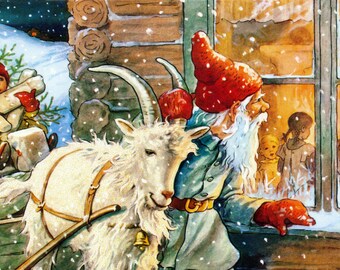 Apart from Julenissen, presents are also brought by sweet, small gnomes called Nisse. They are supposed to keep the farm animals safe, and rice porridge is often prepared for them. Children like to go outside and sing carols, dressed as wise men and shepherds, and walk from house to house.
Poland- Swiety Mikolaj (St. Nicholas)
The beginning of Christmas Time in Poland is Advent – the 40 day Nativity Fast that Christians keep before Christmas. During the entire period – people strive to be peaceful and remember the reason for Christmas. They try to be modest and cut on excesses; they visit church more often, in general, they behave. They also clean a lot, since everything should be clean for Xmas. They connect Xmas with the smell of tangerines. And you can't open the presents until the Christmas supper is finished! Everyone is merry and sings a lot of carols. Presents are brought by Saint Nicholas, but also by Dad Moroz (Grandfather Frost), or Gwiazdor (the Star Man), Dzieciatko (the Baby Jesus), Aniotek (Little Angel), or Gwiazdka (Little Star.)
Russia- Ded Moroz ("Grandfather Frost")
New Year is familiar as the time when Ded Moroz (Grandfather Frost) brings gifts to children. With him always comes his Granddaughter Snegoruchka, the Russian Snowwhite. On Xmas Eve, children make a circle holding hands around the Christmas Tree and ask for Ded Moroz and Snegoruchka. When they come, the lights and the star on the Christmas Tree start shining. Ded Moroz carries a magic staff like an accomplished wizard.
Spain – Three Kings
In Spain, children tend to write their letters to the three Magi in the bible: Melchior, Caspar and Balthazar. The wise men bring gifts to the children around Epiphany (January 6th). They leave drinks for each of the Kings, along with food and drink for their camels.
Sweden- Jultomten ("Christmas brownie")
Swedish children receive their presents from Jultomtel, or simply Tomten. Often he comes with little helpers called Nissar (male elves or gnomes) or Nissor (female gnomes or elves). Like in other countries Swedish people feast on Xmas Day. About 40% to 50% of the Swedish people spend Christmas afternoon watching Donald Duck. Since 1959, every year at 3PM, the main TV station shows "Donald Duck and his friends wish you a Merry Christmas."
United Kingdom- Father Christmas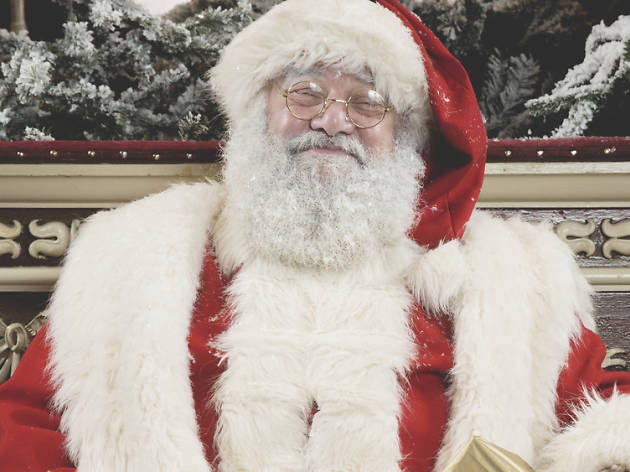 Children believe in Santa Claus, or Father Christmas, who leaves presents in their stockings or under their pillows, which hang up by the fire or next to their beds on the Eve of the great holiday. They often leave brandy and mince pies for Father Christmas out of common politeness. No alcohol nowadays, because Santa needs to drive. They often throw their letters to Santa in the fireplace, because Santa reads the smoke from the chimney.
The British Father Christmas appeared first in a play written by Ben Johnson in 1616. He was depicted as a jolly, plumpy, white-bearded man, who wore a red robe. He was a personification of Christmas's spirit of good cheer, and accompanied by his children: Wassail, Misrule, Carol and Minced-Pie among them.
USA
"He had a broad face and a little round belly
That shook when he laughed, like a bowlful of jelly!
He was chubby, a right jolly old elf."

Twas the Night Before Christmas
In 1910 the artist Alexander Anderson created the first in existence American image of the jolly saint. This is a portrait of Santa leaving treats in the stockings by a fireplace. There is a poem to this illustration which goes like this:
"Saint Nicholas, my dear good friend!
To serve you ever was my end,
If you will, now, me something give,
I'll serve you ever, while I live."

Anderson
The image of the jolly old man we love was created for Coca-Cola ads in 1931.
We have now celebrated Santa for over 1000 of years, but Mrs. Claus – his good wife, hadn't been mentioned before 1849.
Santa's reindeer got their names in 1823 in The Night Before Christmas. Their original names were Dasher, Dancer, Prancer, Vixen, Comet, Cupid, Dunder and Blixem – later Donner and Blitzen. Rudolf, the red-nosed Reindeer appeared in 1939.
There is a town in Indiana named Santa Claus, the only town of that name. In that town is the Santa Claus Museum – the most Christmasy museum in the entire world. Of course they gather original letters from Santa such as this one:
Dear Santa,

This year I have been a very good boy, I just wanted to ask how the reindeer and elves are doing? And, also, how do you get in my house? We don't have a real chimney and we keep our doors locked at night. Our fireplace runs on gas, and at first I thought it would make smoke and set off the smoke alarm, like my sister and her friend did, when they lit so many scented candles. I will give you my Christmas list soon, and most of the things on my list are Minecraft Stuff, but I'm not sure if you know what "Minecraft" is, but you probably will.

Sincerely, Black
And one of the more practical kids gave Santa 104 gift ideas, among which disney watches, loony tunes, big can of coffee, fridge, ice-cream, washer, drier, curtains, desk and purse.
In only 21 days, more than 22000 letters got their answer by about 200 Elves. In some of them kids questioned how does Santa eat cookies around the world, without having intestine issues. Each letter by the deadline got a response.
All in all, our faith in Santa Claus has always brought to many children in the world such joy in that magical morning spent delving into stockings and opening presents only once in a year.